Across the Pyrennees
place(s) disponibles / ticket(s) available
Tours
---
Dates & duration: September 2018 - 8 Days
Destination: France - Pyrennees
Presentation: Ride some of the main Pyrennees passes that make the Tour de France so famous (Tourmalet, Aubisque, Soulor, ...)
---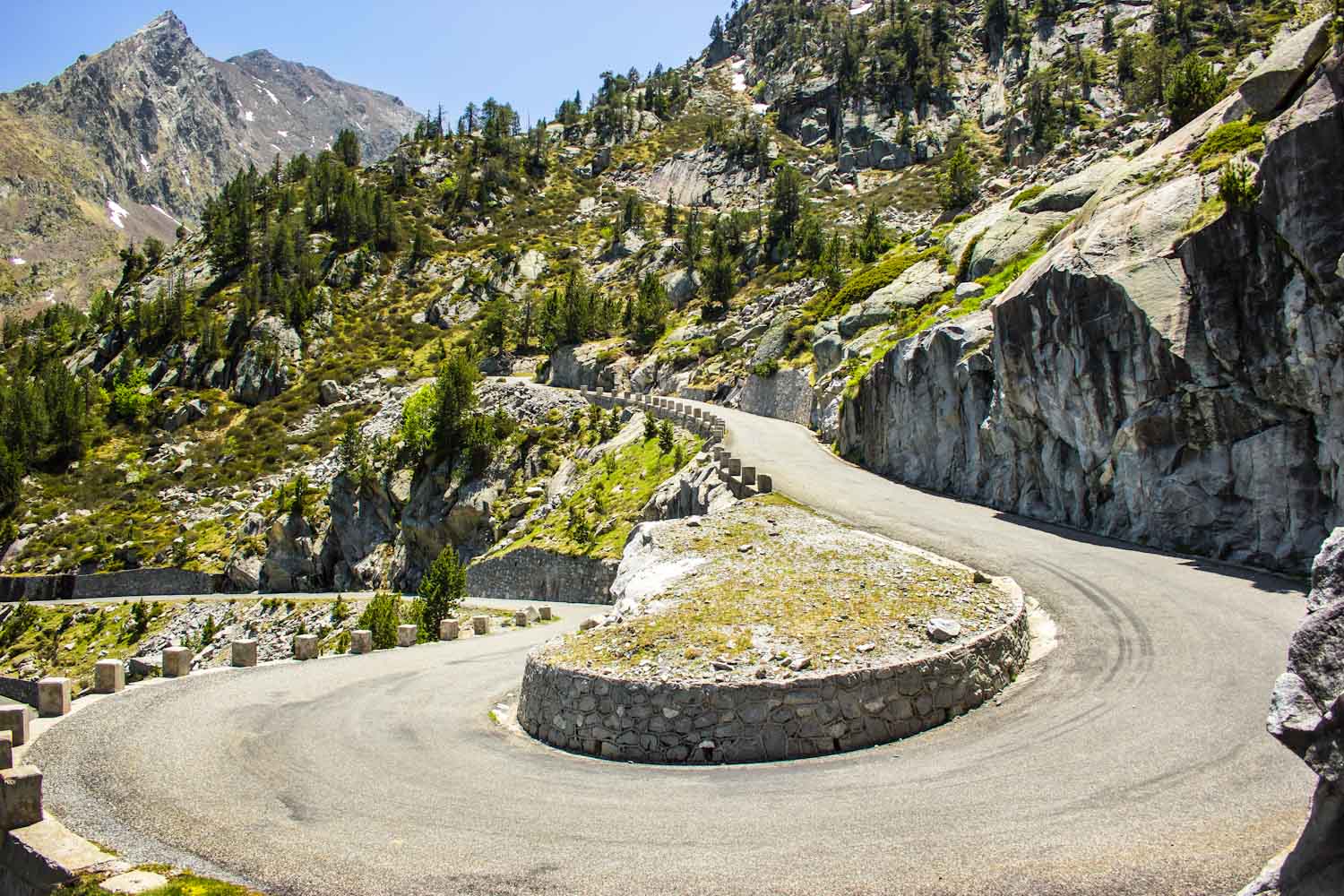 D1 Hendaye

Welcomed at Biarritz airport or Hendaye train station in the afternoon/evening and bike check. Short loop possible into Spain to climb Jazkibel overlooking the ocean.

35km for 560m+

Night in Hendaye




D2 The Basque country

Our first day of the traverse. A bit of France, a bit of Spain but entirely in Basque country. 4 small passes to build confidence and seriously warm-up our legs.

95km with 1300m+
Col de St Ignace, Col d'Otwondo (spain) and Col d'Ispéguy.


Night in St michel




D3 Pyrenean valleys

The climbs get higher, longer and even a bit steeper as we wind through hidden Pyrenean valleys.

110km with 2880m+
Col d'Arthaburu, Col de Bagargui and Col du Soudet


Night in Lurbe

D4 Col d'Aubisque and Soulor

Having already ridden a few TdF passes today we start iconic climbs with Marie-Blanque, Aubisque and Soulor. For those still pass hungry Hautacam awaits.

90km with 2045m+
Col de Marie-Blanque, Col de l'Aubisque and Col du Soulor

Night in St-Savin
D5 A monument : Tourmalet

First task of our marathon day : Tourmalet followed by Hourquette d'Anzican for lunch and the Peyressourde for an afternoon snack

115km with 3270m+
Col du Tourmalet, Col de la Hourquette d'Anzican and Col de Peyressourde

Night in Luchon

D6 The heart of Pyrenees

We'll start our day climbing the Portillon for a Spanish coffee before going a up a remote pass allowing us to descend on the Menté saving energy for the brutal Portet d'Aspet. After a cruising descent the Col de Core awaits

128km with 3335m+
Col du Portillon, Col de Menté, Portet d'Aspet and Col de Core

Night in a Seix


D7 Plateau de Beille

Lesser know but wonderful today's menu includes, Latrape, Agnes and Plateau de Beille

105km pour 2670m+
Col de Latrape, Col d'Agnes and Plateau de Beille

Night in Ascou


D8 From the mountain to the sea


One more day of riding. Few forget the long grind up the Portet de Pailheres which we'll take on right out the door followed by the arid Col de Jau. The last 75km are flat as a crepe as head across the plains to the beach.

155km pour 2290m+
Col du Portet de Pailheres and Col de Jau

Night in Canet-Plage

D9 Perpignan airport

After a breakfast as grand as your surroundings, we'll help you pack up your bike. Then it's into our air-conditioned vans for the shuttle back to Perpignan airport or train station where we'll say "au revoir" ... but not goodbye!


Options

Single room + 290€
Pre or post trip night: on request
Storage/transport Bike Boxe + 50€
Travelling insurance: on request
Included in the price
8 nights in charming hotels in twin bedrooms
All breakfasts (x8)
All lunches (x7) made with fresh and local food
All restaurant dinners (x8)
Bcyclet Welcome Kit
Airport transfers from Biarritz D1 (afternoon), to Perpignan D9 (morning). To be confirmed with your flights.
Support from our team van including luggage transfer
Photo report of the tour
GPS files and terrain altimetric profile for every stage
Food supplies and assistance on each stage
Not included
Flights
Wine and alcohol
Travel insurance (available as an option)
Bike and GPS (available for rent)
Any personal spending